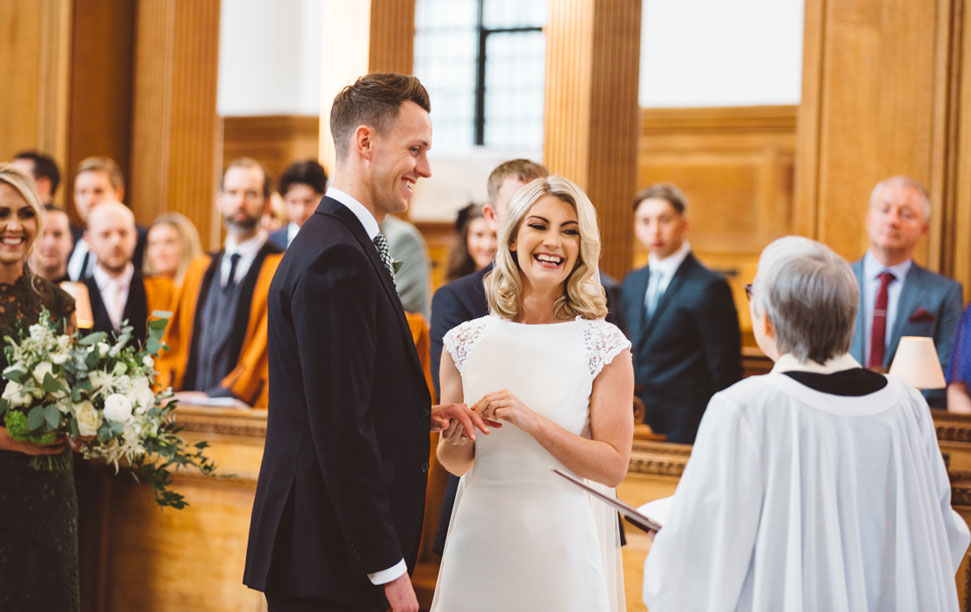 (Photo by kind permission of the bride, groom and Hollie Carlin Photography)
Brides & Grooms – A service of celebration
Sunday 2nd July, 2023, at 5:30 pm
"It takes years to marry completely two hearts, even of the most loving and well assorted. A happy wedlock is a long falling in love." – Theodore Parker
All are warmly invited to attend a special service celebrating marriage at 5:30pm on Sunday 2nd July in St Bride's Church, which has sanctified marriages for 1500 years.
We aim to welcome back as many of our past wedding couples as possible – whether they were married here recently, or have celebrated dozens of anniversaries – for a special service followed by a celebratory drink in the churchyard.
Join us for a glass of fizz and a chance to catch-up after the service.
This is also an opportunity to remember and reflect for those whose spouses have died or whose marriages have not stood the test of time.
The service will include hymns, readings and choral music from our wonderful St Bride's Choir on the theme of marriage. There will also be a congregational prayer as an Act of Renewal, celebrating the blessings marriage has brought us and asking for forgiveness for the times when we have fallen short of our vows.
We first held this service in 2019 and it was a great success. It would help us immensely with our planning if you could kindly let the office know if you are able to come – please email: stb@stbrides.com or phone 020 7427 0133. A crèche room will be available for any who wish to bring small children.
EV'N like two little bank-dividing brooks,
That wash the pebbles with their wanton streams,
And having rang'd and search'd a thousand nooks,
Meet both at length in silver-breasted Thames,
Where in a greater current they conjoyn:
So I my best-beloved's am; so he is mine.

– Francis Quarles
A pre-recorded audio only version of this service will also stream online on this page at the same time as the service in church, and on our pages at Facebook, YouTube and SoundCloud.
READ OR LISTEN TO OTHER SERVICES

STAY UP TO DATE
WITH NEWS FROM ST BRIDE'S
Subscribe to our newsletter to receive alerts for
events and advance information about seasonal services.
We protect your data and never overwhelm your inbox.
SUBSCRIBE